Wednesday, April 30th, 2008
There's been such a flurry of activity on the Porcubimmer recently, I've barely had the time to sit down and actually write about it. This past Saturday was mainly a tune-up day. Vince changed the oil and sparkplugs, Scott and Ben replaced the tranny fluid. I tackled the project of how to fit our (not required by the rules) window net, since the seat impeded the spring loaded quick release attached to the cage from working properly. After thinking long and hard about how many different ways I could violate FIA regs, I came up with every racer's favorite solution for securing things to each other. No, not duct tape, the other one.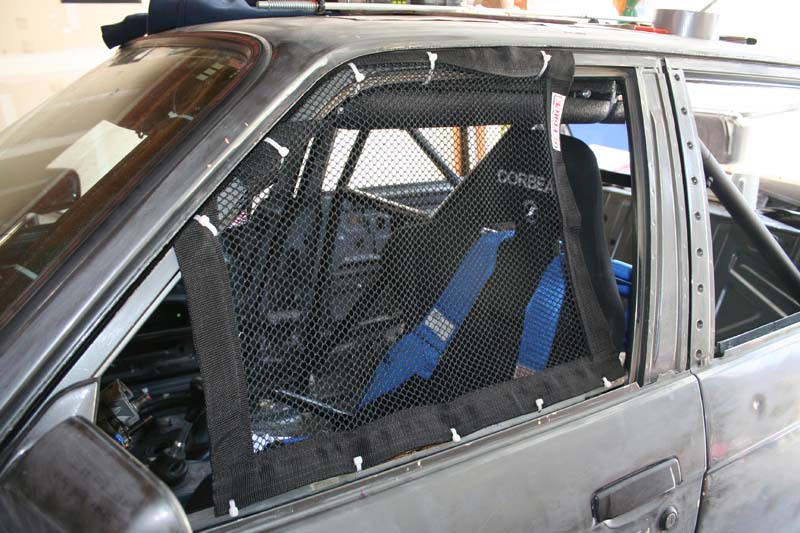 Zip ties. Yes. It's zip tied to the window frame. Which, in any self respecting sanctioning body that actually REQUIRES a window net, would send the tech inspectors screaming and running away crying for their mothers. Since the Lemons folks don't, we figured this would work. Hey, it stopped a roll of duct tape I threw at Vince while he was sitting in the car, which is basically the reason why it's on the car. Stop crap from hitting the driver.
Speaking of drivers, with the harness now fully installed, we allowed our… uh, more fuller figured hotshoes to take a fitment test behind the wheel. Ben takes a moment to ask if you can smell what The Rock is cooking.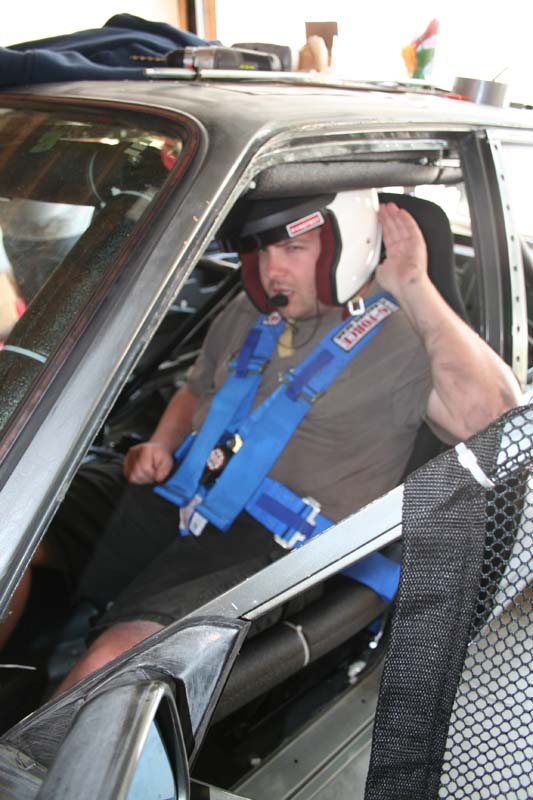 We also determined that BMW's stock battery location (in the right rear corner of the trunk) was probably only good for about 4 1/2 laps at Lemons, so Vince donated the battery box from his bitchin' Camaro to move it to a (slightly) safer location.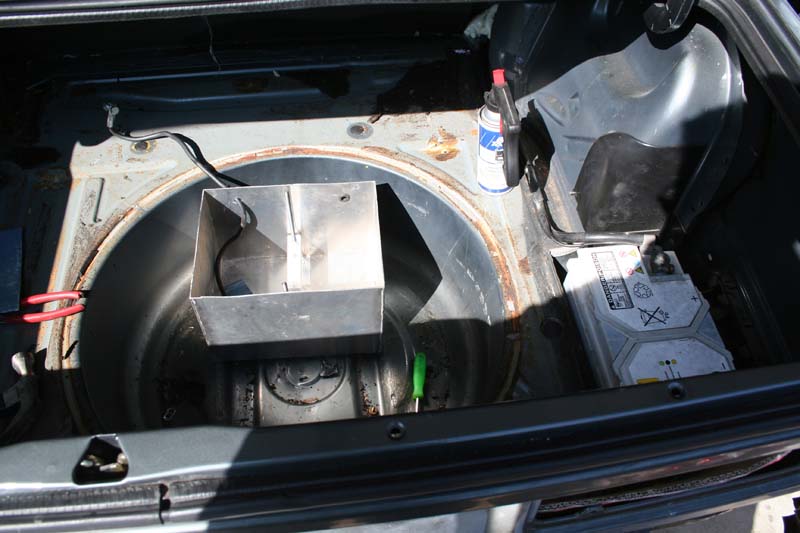 See? We actually took the Tecate empties out.
While Ben organized our spare parts into tubs…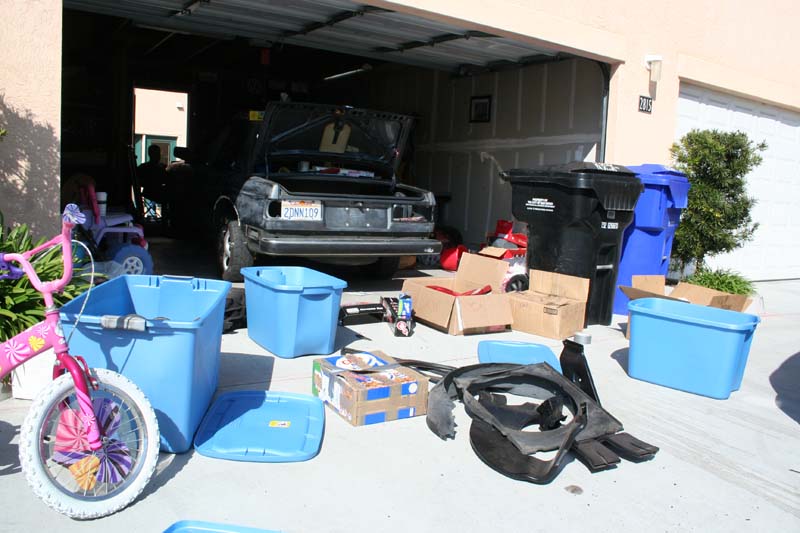 …I wired up the cigarette lighter sockets with a switch to power our accessories. Unfortunately, something wasn't quite right when we went to jumpstart the car to run it and test our cooling fan…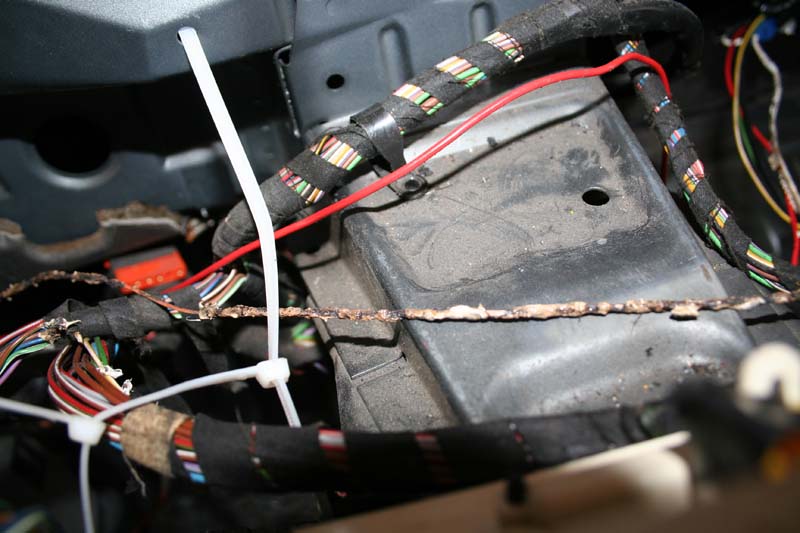 …as the GROUND wire decided to melt all its insulation off once the cables were attached. Yeah. I don't know either. What I do know is insulation smells bad when it starts smoking. Cough. I decided that discretion was the better part of valor and to leave rewiring that for another day. And to use the power point on the firewall Scott pointed out to me, rather than kludging it into the fusebox as it was before.
So, enter Tuesday afternoon. I rewire the cigarette lighter outlets to the power point and tidy up some interior wiring…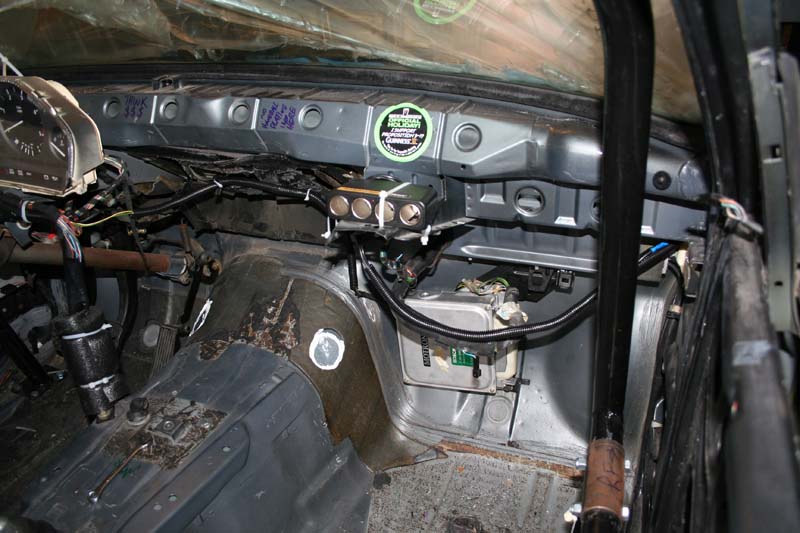 …as well as seal the remaining holes in the floor/firewall to keep the drivers from dying in a fire/from carbon monoxide poisoning. Having finished that, I took a moment to wire up the single most important component to date: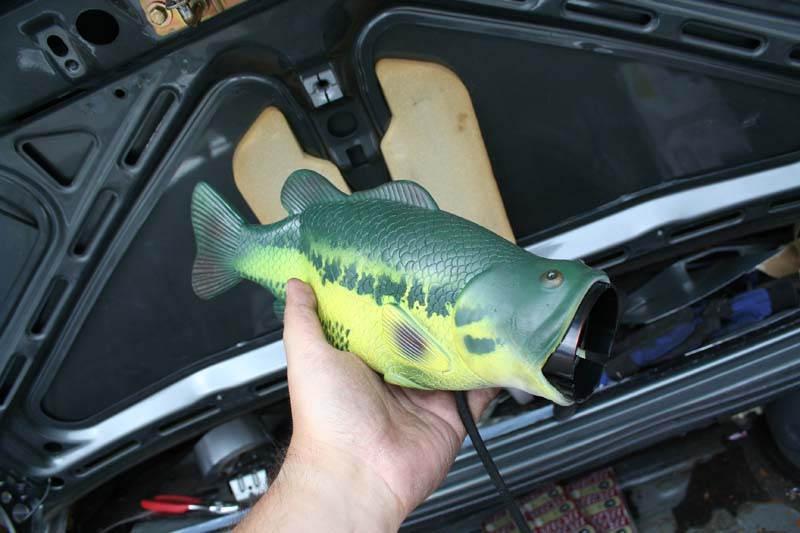 The wiggling trailer hitch bass. It will be mounted where the BMW roundel was on the trunk and it wiggles when you hit the brakes. What does a wiggling bass have to do with a porcupine? Who fucking cares, it's funny, shut up.
Shortly after that, the rest of the cavalry arrived, and we set about painting with semi-reckless abandon.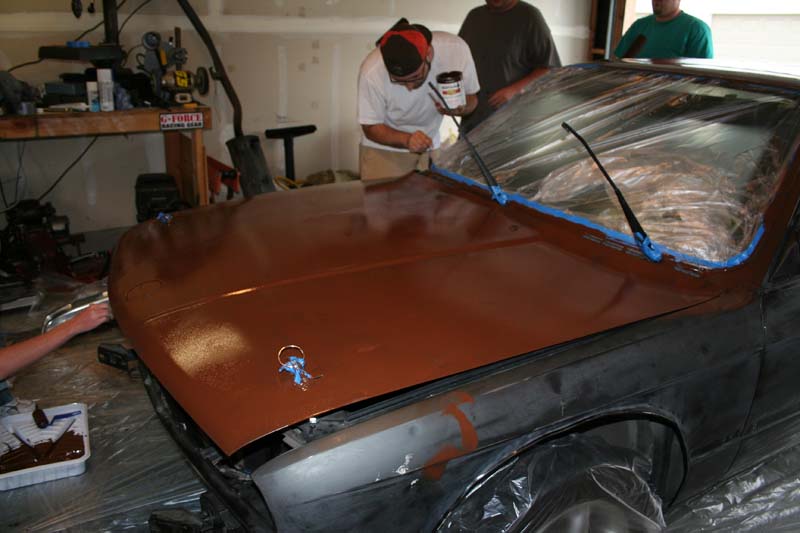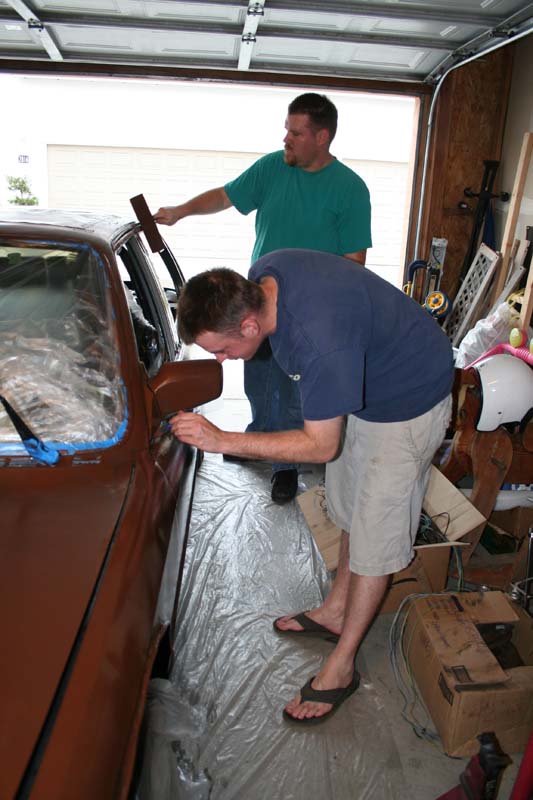 After inhaling Rustoleum fumes for the better part of 45 minutes, we decided it was time to roll our handcrafted piece of shit German Engineering into the driveway for some glamour shots.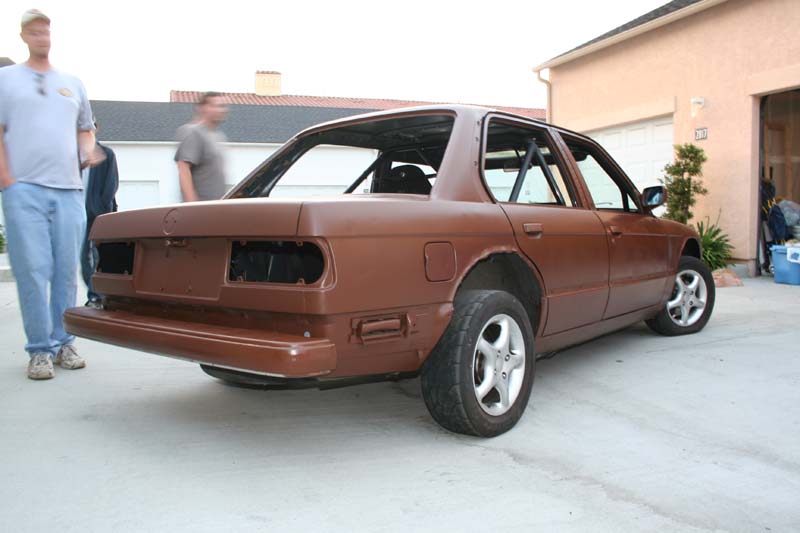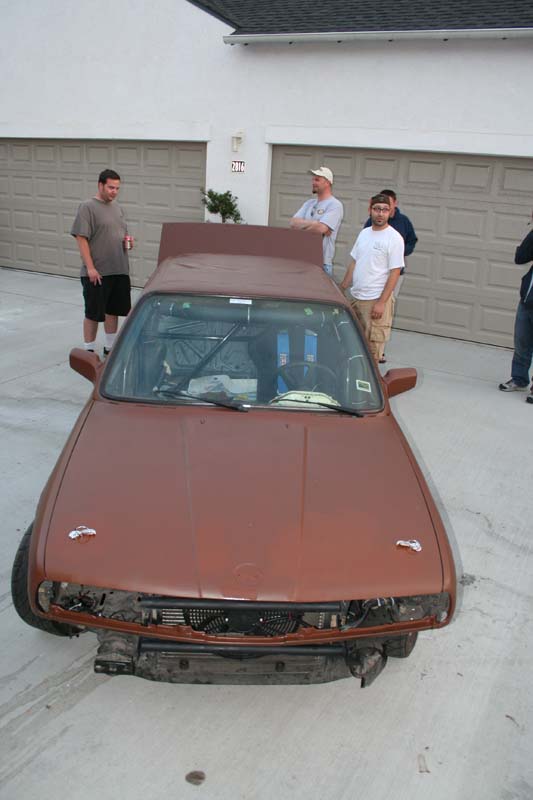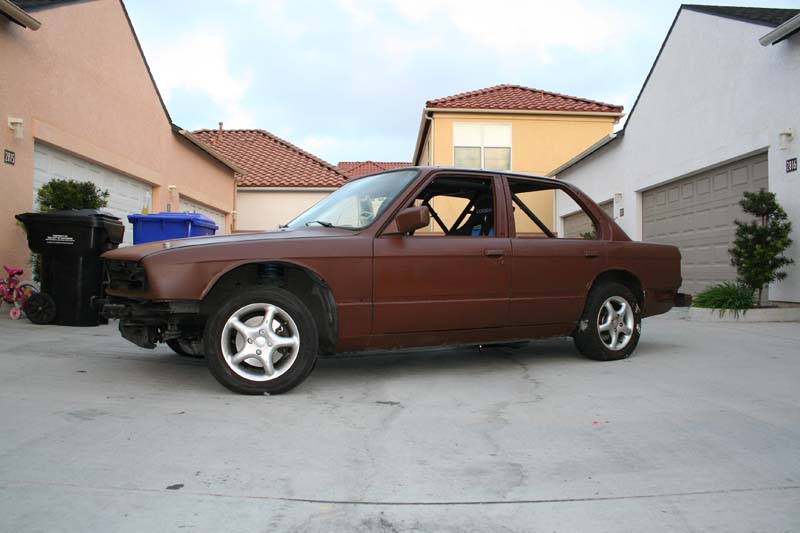 So we've learned that a bunch of drunken slacktards with Rustoleum and cheap Chinese paint rollers can actually put a decent finish on an automobile. It actually has a really nice texture to it when viewed up close. Were this not a Lemons car, we'd probably wet sand it and apply another coat… but, I mean… come on. Really.
Stay tuned, there's not much time left before the race! This Sunday brings sponsor sticker application and more organizational type activity, pit stop practice, and more, with the quills slated to go on early next week. Check back soon!
-AJ